Its Pink Friday once again. Whew, today is already Sunday but the linky love is still open so I still have a chance to post this newly purchased Disney Princess in Pink Beanbag.
I went to SM to buy the painting materials for the kids. Then I remembered that we were given an invitation of our previous neighbor in Meadowood. So I bought a remote controlled cars on sale for Php 599.00 but it used be Php 1,200. I got it for 50% off!
I was then told that once I purchased a toy worth Php 500.00 - I can already buy the beanbag for Php 199.00 and seeing a pink color beanbag - how can I resist? Especially that I have a daughter who loves pink!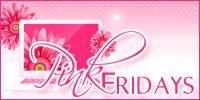 If you want to join this Pink Meme every Friday, click the badge!